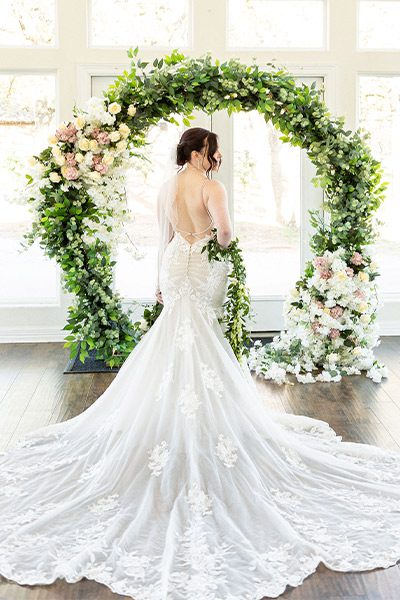 With so many proposals taking place from the holidays through Valentine's Day, couples are now coming down from the adrenaline rush of getting engaged and must start planning their wedding. One of the many areas of wedding planning is deciding on decor. Some know what they want, whether it's an elaborate and luxurious style or laid-back and minimalist. But some need inspiration to spark their creativity.
When it comes to finding this inspiration, we usually look at the current wedding trends. If you are unsure what this year's wedding trends are, you're in luck! The team at Lone Star Mansion has researched this year's hottest wedding decor trends to help you find the perfect look and style for yours. Here are the hottest wedding decor trends of 2023:
Creating a Zen Feel With Simplistic and Natural Wedding Decor
A zen-themed wedding is all about unifying the couple with their guests. This is done through the food, music, and spirituality of the ceremony. When it comes to the decor for a zen wedding, think white or ivory colors, white plates and napkins, and accents in pastel shades. If you are looking to add more color, you can do this by adding in bolder greens or pinks through the use of pillows, throw blankets, or table runners. Whatever you decide, you'll want the accent colors to feel natural to fit in with the overall theme.
Use of Vibrant Colors and Textures
One of the strongest emerging trends in 2023 is the use of vibrant colors and unique textures for wedding decor. The benefit of this kind of aesthetic is that it allows for a wider selection of floral designs, furniture, and fashion for your guests. It also promotes a fun yet elegant atmosphere throughout your wedding.
Creating a Sense of Sustainability Through Decor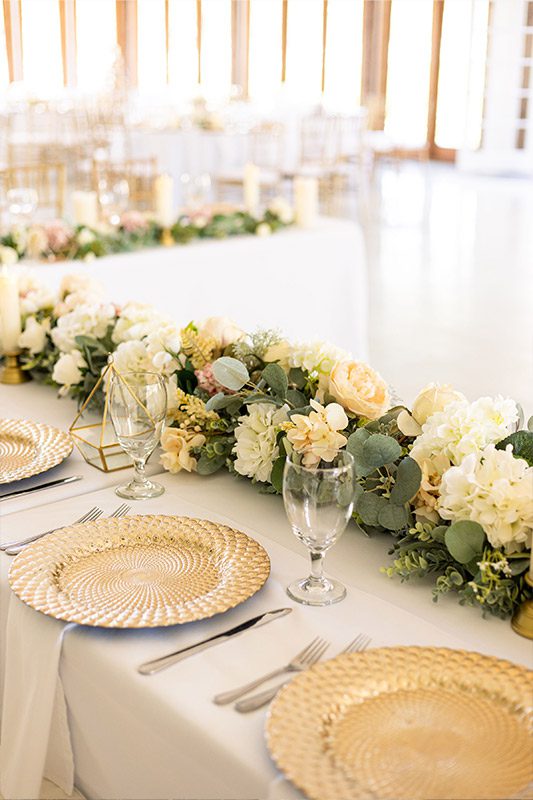 Sustainable weddings are becoming more and more popular, and our team is seeing a rise in this theme in 2023. Sustainable weddings are all about incorporating eco-friendly practices into the wedding to protect and honor our natural world.
When it comes to decor, this is often done by using recycled materials and more natural decorations, such as seashells found on the beach for a beach theme or real flowers over faux ones.
Couples looking to follow the sustainability theme also serve food on real plates vs. plastic ones, use washable silverware, and avoid disposable plastics or paper during the event.
Using Grounded Floral Arches
Arches are a popular decor option for every ceremony space, as they create an intimate setting for the couple to exchange vows. Massive floral arches have traditionally created the perfect backdrop for both the wedding ceremony and photos afterward. In 2023, this trend is changing by putting the arches on the ground instead of upright.
These horseshoe-shaped floral arrangements that rest on the ground are rising in popularity for outdoor ceremonies, as they allows for an unhindered view of the surrounding landscape while still creating a cozy and intimate space for the couple.
Using Intentional Lighting
While lighting has always been associated with taking good photos, now it is truly part of the design process. Custom lighting fixtures ensure that the lighting is perfect for every shot while also adding an extra layer sophistication to the wedding decor. The best way to use custom lighting is to install it in intentional ways to transform the space.
A Picture Perfect Wedding At Lone Star Mansion
Planning the wedding of your dreams involves so much more than just choosing the right decor. It all starts with the perfect venue. If you are getting married in DFW, Texas, the Lone Star Mansion is an incredible choice. With an immaculate three-story antebellum-style mansion, 20 acres of breathtaking grounds, and incredible staff dedicated to ensuring your wedding is perfect, there are so many reasons to pick the Lone Star Mansion. Make sure each moment of your special day is picture perfect and contact our team for more information on our venue or to schedule a tour of the grounds.
Additional Resources: