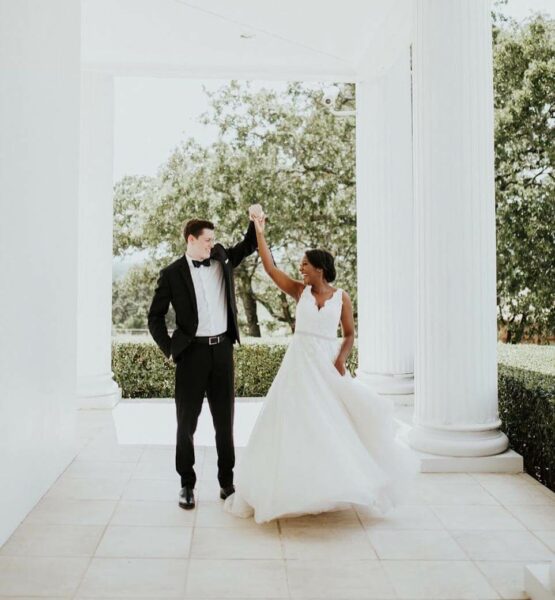 Black Tie Wedding Venue DFW
Interested in a Black Tie Wedding Venue DFW where you can dress to the nines and radiate in the traditional beauty of our venue? We're all about sharing how to have an unforgettable time here at the Lone Star Mansion. By giving you some of our favorite Black Tie Wedding Venue Favorites, we hope you gather some of your own inspiration.
Gold Accent Decor: Gold looks fantastic next to black. It also completely changes the ambiance of your wedding to feel luxurious and calming. An accented gold centerpiece with some shimmer is just the trick to create an elegant table. Chair sashes, wedding cake icing, place card holders, candlestick holders, and even floral arrangements are all great options to add a gold accent to your black-tie wedding.
Black Bridesmaids Dresses: Slimming, daring, and extremely classy to include in your Bridal Party. Black Tie Wedding Attire isn't just for the Groom's side. Another perk is that it makes the bride shine even more in her white wedding dress! The trend is the right fit for your DFW Wedding.
Champagne Towers: Firstly, champagne towers are a blast to participate with. They're also a gorgeous piece of decor that is a traditional element of Black Tie Weddings. We absolutely needed to include this in our list of favorites.
Floating Candles in the Pool: Our Black Tie Wedding Venue offers an outdoor pool, and the romantic lighting in the evenings is lovely.
Get Ready in Black Tie Attire: Lone Star Mansion also has a Groom's Suite where the groom and groomsmen can shoot pool in their black-tie attire and capture those fun moments behind the scenes. As for the Bridal Party, getting ready in black and white tux themed p.j.'s is suitable get-ready wear with the ladies.
Group Fountain Photos: Photographers and couples always want to capture their family and friends with the backdrop of our mansion, brick entry walkway, and ornate fountain—the ultimate way to celebrate in our Black Tie Wedding Venue!
Have your day coming up? Let's talk about reserving your wedding at Lone Star Mansion!