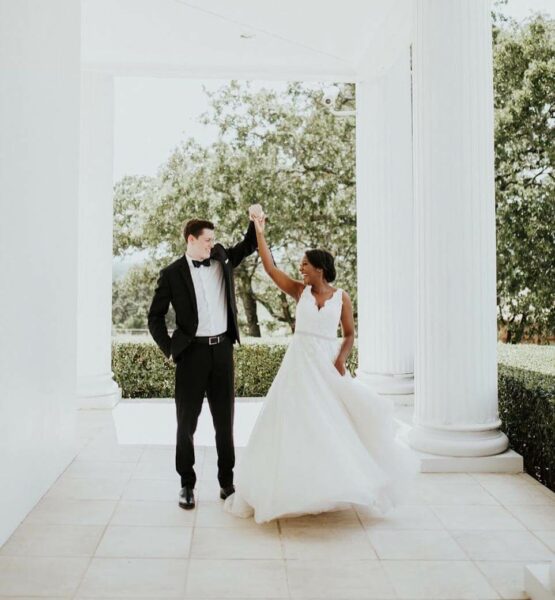 Some individuals want a laid-back wedding where they get married on a beach. Others want a fantastical affair that looks like something out of a fairytale. But the newest rising trend is having both the wedding party and guests dress to the nines so that they radiate elegance throughout the wedding. This new trend is known as a black-tie wedding, and when it takes place at an unforgettable venue such as the Lone Star Mansion, you can guarantee that your guests will talk about it for years to come. 
If a black-tie wedding sounds like the ideal theme for your wedding in the DFW Metroplex but you are unsure of how to start the planning process, the wedding planners at Lone Star Mansion can help. Our talented staff has put together some of the most stunning and eye-catching events right here at our venue. From décor to jewelry, we have a little something for all aspects of your wedding. Here are some ideas that we know every bride and groom can get behind for their black-tie wedding:
Setting the Scene: The Location
Before you set the date in stone or decide on your decorations and food, you must choose a venue. Your venue sets the stage for your theme. For example, you wouldn't want to have a beach-themed wedding inside a church. While the decorations may make it feel beachy, the setting would be completely wrong.
The same goes for a black-tie wedding. You want to pick a classy, sophisticated, and awe-inspiring venue. With its immaculate 3-story antebellum-style mansion and over 20 acres of breathtaking property, the Lone Star Mansion is the ideal space for your black-tie event. Whether you decide to get married in the lavish Carriage House with its incredible view of the property through the stylish French windows or you want to take advantage of the magnificent ballroom with stunning crystal chandeliers and classic wood flooring, the entire mansion exudes brilliance and class, fitting the black-tie theme perfectly.
Creating the Atmosphere: The Decorations
When it comes to black-tie wedding events, the décor should center around creating an atmosphere of glamor and charm. The primary colors for these events are often black and white, but using accents such as silver and gold or even pastels can help make the environment pop. Here are some suggestions from our staff.
Gold accents look lovely next to black and make the ambiance feel luxurious. When it comes to the ceremony, using gold in classy decoration pieces such as lanterns can set the atmosphere while being practical. Pair these gold accents with green or white flowers, or create a topiary or wall flower arrangement for the aisle that uses gold accents.
If you want to use gold for your reception space, select gold chair sashes, place card holders, and candlestick holders. Then tie them in with flowers that complement the ones at your ceremony.
Are you not sold on gold? No problem; other metallic tones, such as silver or copper, can also look classy with black and white. These colors are well known for catching the light and pairing well with greenery. Make sure you use textural bouquets and living flower walls to heighten the look of these softer metallic tones. This is especially true if you decide to use copper, as this color can give off a rustic vibe.
Additional Décor Ideas:
Refined white flower décor draped over stairwells or to make a wedding arch
Black, white, and gold table décor, such as plates with lots of flowers thrown in to make the colors pop
Simple black and white signs to direct guests
Silver touches to plants or on runners make tables stand out
Black place cards with copper calligraphy
Lush white or ivory floral arrangements to offset the black and draw in the eye
Stylish Threads: The Dress Code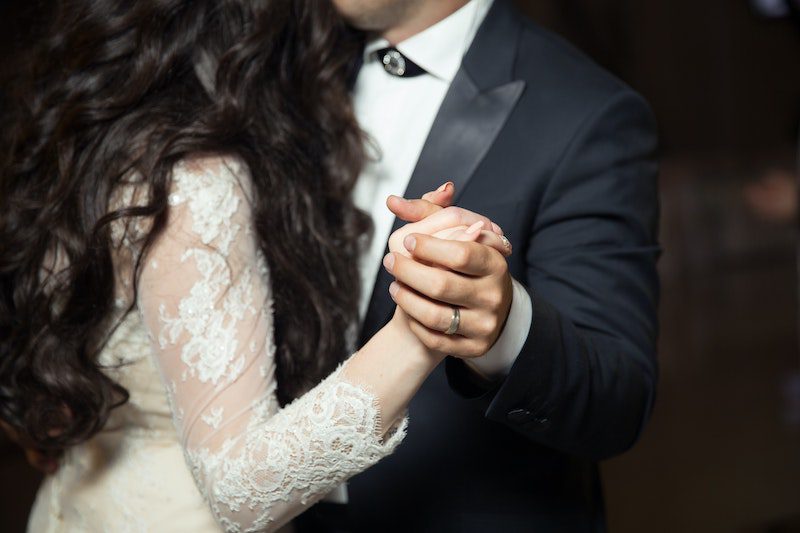 You and your spouse set the tone of wedding attire. However, your guests only know what you two are wearing on your wedding day. It is extremely important to decide on your dress code before the wedding and make it clear on your invitations. Ensure that your guests understand that dressy does not mean Sunday best—it means tuxedos and evening gowns.
Wedding Attire for Women
For a truly black-tie wedding event, women can follow the below guidelines:
Choose floor-length dresses that are glamorous or make a statement.
Accessorize your look with diamonds, moissanite, or zirconia earrings, bracelets, or necklaces.
Wristwatches should be avoided, especially with beautiful gowns, as it may throw off the aesthetic.
Black and dark color dresses work the best, but jewel tones, gold, silver, and copper also work.
For women who may not want to (or cannot) wear dresses, a custom pantsuit will allow them to fit in with the group's glam. However, make sure it is not a playsuit or jumpsuit.
Cocktail dresses may work, but they need to be tasteful.
What Shouldn't Women Wear?
There are a few pieces of attire that will ruin the look of a black-tie event:
Anything short or revealing
Anything in white, cream, or ivory
Too much bling that may upstage the bride. Try to keep a minimalist look
Wedding Attire for Men
There are a few staples of a black-tie wedding that men can wear to fit the theme. These are as follows:
Tuxedo and pants that are trimmed with contrasting satin or grosgrain.
Waistcoats are also appropriate and encouraged for this type of wedding. They can come in midnight blue, navy, royal blue, or gray variations. Hunter green or burgundy can also work.
Formal cufflinks are encouraged, or stud sets, which would replace buttons on open plackets or French shirts.
Patent leather shoes, such as Oxfords, are perfect with this kind of attire.
What Shouldn't Men Wear?
There are a few pieces of attire that men should avoid for this kind of wedding:
Suits
Open-toed shoes
Shorts and polos
Opened-collar dress shirts (unless they include a bowtie or formal necktie)
Sports coats or blazers
Tennis shoes
Always wear black socks
Attire for the Bride
When it comes to attire for the bride, there is a wide range of dress options, such as:
Column or sheath gowns
Ball gowns
Trumpet or mermaid-style gowns
A-Line gowns
Does the style matter? No. What matters is that you feel beautiful and comfortable. As long as you feel elegant, you are going to look elegant. Your wedding dress is a sacred right for you as the bride, and no style, theme, or anyone else's opinion should dictate your desires. You should pick the dress that makes your heart sing and you can envision walking down the aisle wearing.
What About Accessories?
As with your wedding dress, your accessories should be what you want. But it is recommended that you choose jewelry that is classic and elegant. Diamonds and pearls fall under this category.
Attire for the Groom
The groom should wear a classic tuxedo. They can choose whatever style they feel best wearing. Some may prefer the classic black and white look, while others may want to throw in some jewel tones. Whatever they choose, it should be formal and fit well.
Mouthwatering Delectables: Wedding Food
There are a few things that guests remember from every wedding, including how the couple looked and how the food tasted. Your food should be elegant—some good options include seafood, pasta, beef tenderloin, and ribeye steak. For this type of wedding, you may want to have the food served in courses to fit the theme better and create a unique experience for your guests.
Cake and Desserts
The cake and desserts you choose should also have that elegant feel. Try sticking with ivory, white, or black so they match the rest of the theme. You can also accent your cake and desserts with edible gold or use fresh flowers to decorate the area around them. Macarons and chocolate-covered strawberries are favorites, as they are easy finger foods that look intrinsically classy.
Ready to Start Planning Your Black-Tie Event?
Lone Star Mansion is Burleson, Texas's most popular wedding venue. With its gorgeous grounds, incredible indoor settings, and fantastic staff dedicated to ensuring your big day goes off without a hitch, there is no question as to why. We have proudly held many beautiful weddings on the grounds and were honored to hold the wedding ceremonies for Season 3 of Netflix's Love Is Blind. 
If you are looking for the perfect venue for your black-tie wedding, contact Lone Star Mansion to schedule your tour and appointment with our wedding coordinators. We look forward to being a part of your special day.