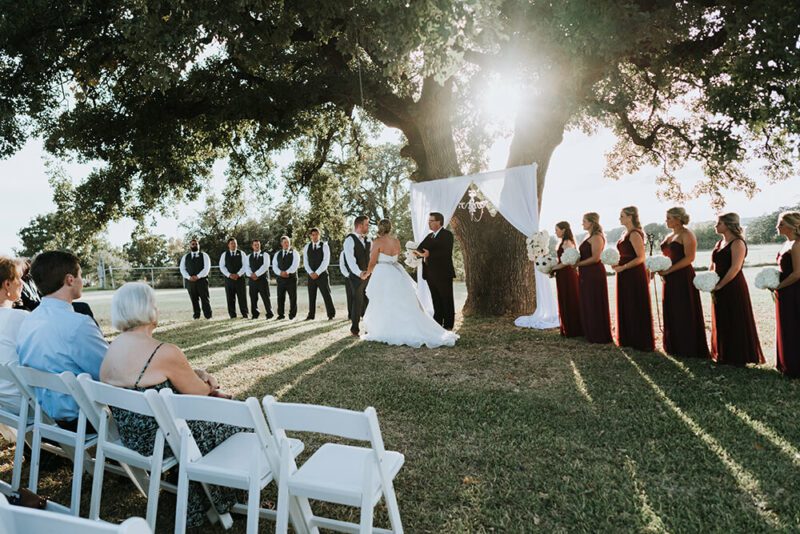 Burleson Mansion Venue
The time of year for outdoor weddings is coming back up, so we wanted to let you know about some outdoor wedding venue tips! As your favorite Burleson mansion venue, we are here to help you out. Keep reading to learn more about outdoor weddings.
The first tip that we have for you is to be prepared and have back-up option. This is something that is great about our venue! Not only do we have our stunning grounds, but we have plenty of space within our mansion and other parts of our venue for an indoor wedding. Having this back-up option is so important, especially in Texas, because the weather can change at any point in time.
You should have plenty of refreshments for guests! Be sure to have water, with or without fruit in it, that people can get before the ceremony and as they are leaving the ceremony to go to the reception. You can offer other refreshments too, like an iced tea or lemonade. This will help everyone to be able to focus on you in the Texas heat.
Lastly, don't forget to continue your decor throughout your outdoor wedding! It is easy to forget to decorate in the outdoors, but this will keep your entire wedding tied together with the same aesthetic. Bringing in your flowers along the aisle, colors through rugs along the aisle, or through the backdrop of your ceremony. There are countless ways to bring your decor into your outdoor wedding.
The Lone Star Mansion loves this season of the year because of all of the outdoor weddings. We would love to talk with you about having your outdoor wedding at our Burleson mansion venue! Contact us today to get the conversation started about touring and your upcoming wedding date.
Additional Resources: