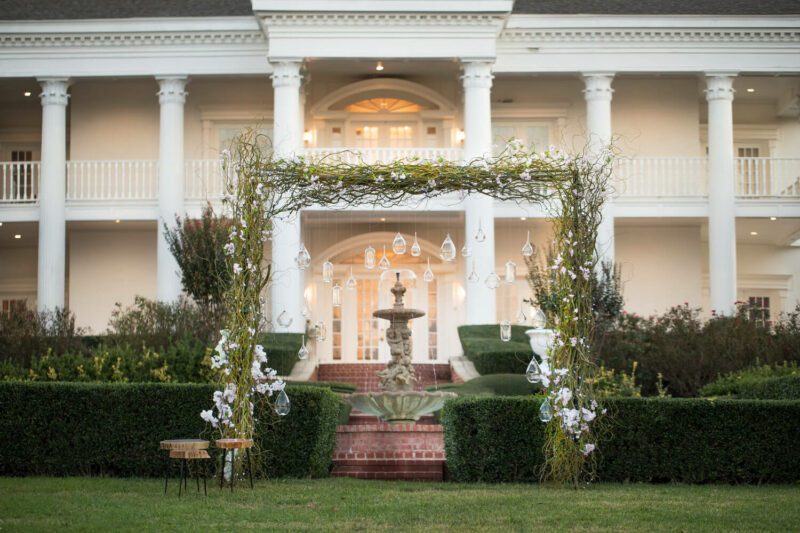 We understand the benefits of a mansion wedding, but for many couples, it may seem out of reach—perhaps too expensive or elaborate. The cost of a mansion wedding, however, is often less than a traditional venue. Most wedding couples are surprised by this and excited at the prospect. One huge benefit is you don't have to rent two venues when you choose a mansion wedding like Lone Star Mansion. Your wedding ceremony, cocktail hour, and reception are all in one place. This means, of course, you don't have to rent multiple venues or plan for duplicate décor items.
Another benefit is that you won't have to engage with multiple contacts at multiple venues. We understand there are many moving parts to your big day. This means, of course, you're dealing with a lot of people, coordinating dates, times, budgets, and preferences. When you have a mansion wedding, everything you'll wish for is under one roof.
At Lone Star Mansion, you are provided a full staff for your special day. Our owner and general manager, Sara, brings more than 20 years' experience and is a Certified Wedding and Event Planner; she, along with our event director, Nicole, work diligently with you to ensure your dream wedding comes to life. Our facilities manager, Jose, knows our property inside and out; everything you see his hands have touched, grown, trimmed, built or repaired. He will ensure the grounds are beautifully landscaped and that everything is just right for your big day. You'll love having your own executive chef in Rogelio, who creates amazing new dishes and perfects old ones with more than 30 years of experience in the food industry. Our staff is at your disposal to ensure no stone is unturned for your dream wedding.
Another benefit of a mansion wedding is its versatility during inclement weather. We have the ability to transition your plans indoors if your outdoor wedding forecast isn't favorable. Not having a last-minute scramble to make allowances for unpredictable weather means less stress for you.
Mansion weddings allow for flexibility and offer full-service packages that are unique and affordable. Of course, we're incredibly partial to ours and would love to chat with you about what you envision for your dream wedding. Contact us here to start a conversation about your Lone Star Mansion dream wedding.
Additional Resources: