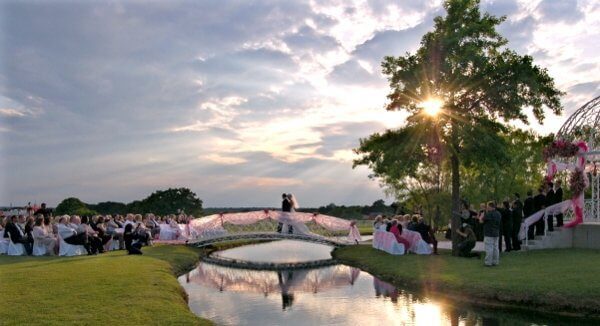 Whether you want to take off right after your wedding or wait till you have extra vacation time, your honeymoon is the perfect time for you and your partner to kick back and relax. Read on to find the ideal destination, no matter what month you decide to jet off.
Tip! Be sure to check Covid-19 guidelines for domestic and international trips when booking to ensure you are properly following their protocol. Some airlines and destinations require a negative covid test, while some countries are not allowing US travelers to visit at this time. For specifics, check out your honeymoon destination's government website for more information on regulations.
January
Whether you are looking to escape the snow or head to it, there are plenty of honeymoon destinations to celebrate the new year. For a winter wonderland, head to Jackson Hole in Wyoming. To escape the cold, head to a warmer climate, like the Caribbean. Australia is at the height of its summer season and is the perfect place to enjoy the beach and atmosphere.
February
Hawaii is a go-to location in February and is the perfect option if you love to surf. If you want to go to a warmer climate, New Zealand is known for being dry and warm. Paris is another fan favorite but can often be filled with tourists and more expensive this time of year.
March
March is the perfect time to soak up the sun in the Bahamas. If you are looking for fewer crowds, head to Italy! It is warm but isn't quite as crowded with tourists. If you are looking to stay within the US but still soak up the sun, Florida is in high season with hot yet dry weather. For city lovers, head to New York for cooler temperatures before their hot sticky summer rolls around.
April
April is the perfect time to explore Washington or Nevada; it's before peak travel season, so there are fewer crowds. For a more relaxed trip, head to Napa Valley to spend your days sipping wine and walking through vineyards. If you are looking to indulge in florals, Amsterdam is in tulip season while Japan is in Cherry Bloom season.
May
May is the perfect time to head to Banff National Park in Canada to go sightseeing without the heavy winter snow. If you are looking for more summer-like temperatures, head to Tuscany in Italy. It's full of greenery, wildflowers, and poppies. Prague is full of blooms with flowers and trees and has a three-week spring music festival.
June
If you are looking for a domestic city filled with music, head to Nashville in June, where it's alive with the country music festival. From the bars to the food, there is plenty to do to keep you busy. For the nature-lovers, the waterfalls are a sight to see in Yosemite National Park, while the temperature is perfect for exploring.
July
July is the perfect time to explore National Parks in the United States. You don't have to worry about cold temperatures, but crowds can be a concern. Peru is also known for sunny and beautiful days in July but can be a bit cool, making it the perfect destination if you are looking to escape a hot summer.
August
Head to the Mediterranean coasts of Europe to relax on the beach and enjoy the sun. The views are beautiful but keep in mind that the crowds are still visiting.
September
New England is known for being beautiful to visit in late September. While it's early fall, the trees have started to turn color, and the temperatures have started to drop. If you are looking to head to an international city, check out London or Dublin to enjoy the fall city life.
October
Skip the heat in Las Vegas by visiting in October. Explore the area, hit the casino, and enjoy the nightlife with your partner. If you are looking for a less crowded destination, head to Venice! The weather is warm, but the tourists have left.
November
Enjoy the heart of the city in New York but pack layers because it is chilly! Take in the city life and the hustle and bustle of the early holiday season. If you are looking to enjoy Christmas markets, head to Germany for their well-known markets. If you are looking to ski, head to Aspen to enjoy the cold season and winter weather. Snuggle up in front of the fire and enjoy a night in with your partner.
December
Enjoy the cold weather and holiday season by skiing in Colorado. If you are looking for festive romance, head to the Alps or Lapland. Suppose you are looking to escape the cold, head to Belize for a warm, sunny vacation. Explore the reefs, sail with your partner, or go on long hikes to enjoy the outdoors.
Ready to book your dream wedding? Contact us today!