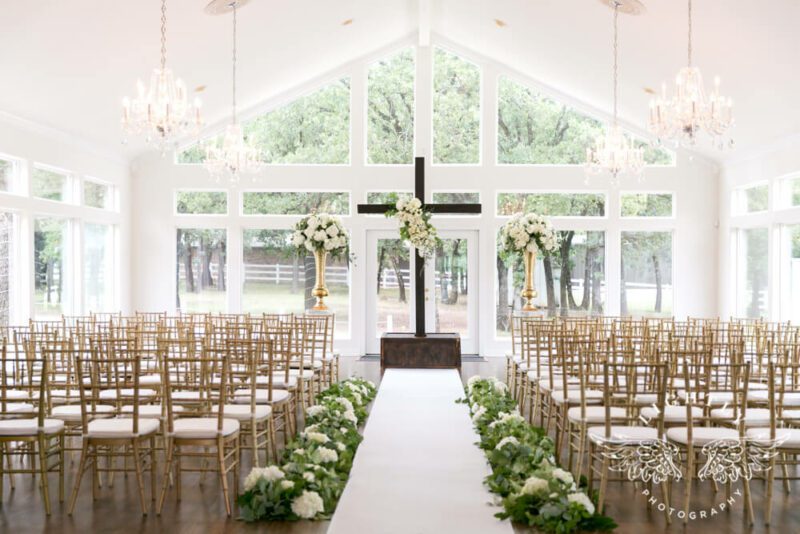 North Texas Wedding Venue
Remember when every wedding aisle was draping with tulle along each row of seats? While this is still beautiful for some weddings, there are so many more options to decorate your wedding aisle with now! We have some aisle inspiration for you to incorporate in our North Texas wedding venue below.
Add candles and lanterns to your aisle! Even if the flickering light isn't visible, having things like candles and lanterns sets a certain ambiance that will elevate your ceremony. For candles, use multiple sizes or have tea candles floating in tall, clear vases. Both of these will add elegance. If you go for the lanterns, you can choose whether to add a candle inside or not! Lanterns add a vintage, but classy feel to your wedding aisle.
Add ferns or the greenery in your bouquet to your aisle decor! Adding greenery is a simple and subtle way to dress your aisle up. It will add a little something without being too much.
You can also use a of mix Persian rugs or area rugs to walk down the aisle on. The use of rugs is great for the more boho chic weddings, but can be used in a lot of other styles of wedding, as well! Rugs will dress up the aisle in colors and patterns. This is great for the couple who loves fun patterns and designs.
Lastly, all the florals! Whether you outfit your aisle in matching florals to your bouquet and alter or just have a thick layer of petals acting as the aisle, florals are always a great option. It adds color and texture without being too much. It is also easy to keep this matching with the rest of your wedding.
We are so excited to see how you make your aisle your own at Lone Star Mansion!
Additional Resources: