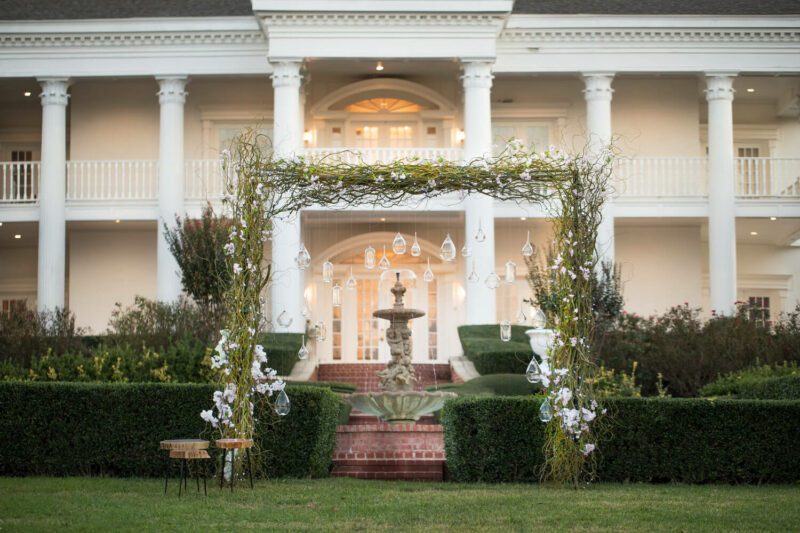 Burleson Mansion Wedding
Are you trying to figure out what your ceremony backdrop should be on your wedding day? There's so much inspiration out there, but we've compiled our favorites that we've seen at our Burleson Mansion Venue! We truly think that each of these would look phenomenal in our venue depending on which part of our venue you choose to have your ceremony at.
Florals and greenery are a popular backdrop right now. There's just so much that you can do with them! Make them minimal or maximal, whichever is your preference, all florals, no florals, the options are truly endless. With this organic option, you can do tendrils directly on walls arches, or even just around the ground!
Another option is using butcher paper as your backdrop. This can be whatever color you want, whether a dusty pink or a simple and elegant grey, butcher paper can be the perfect minimalist backdrop. You can also have words or a phrase written onto it for an extra special message. The best part about this backdrop is that you can take it home and use it as decor afterward!
Are you a little bit extra? Using tinsel as your backdrop might be the perfect option for you. It adds some sparkle and shimmer behind you that will be perfect in your pictures. You can easily find different colors of tinsel on Etsy!
Lastly, we love the trend of using geometric shaped wood as backdrops. We love seeing all of the shapes that people choose whether it be a triangle, a hexagon, or any shape! Adding some greenery or florals to this will only add to how beautiful this backdrop is!
Contact us today to book your date at our Burleson Mansion Venue! We would love to have you and your beautiful wedding day at our Mansion!