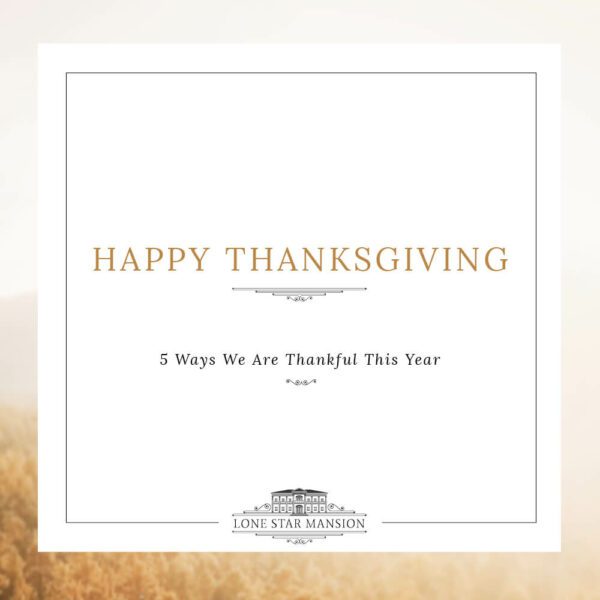 Thanksgiving is a day of reflection at our Burleson mansion venue. We are incredibly grateful to work with such fantastic couples and businesses every year. We wanted to thank you, our wonderful customers and vendors, as we reflect on everything we have to be thankful for this holiday season.
Our Customers
First, we have to thank everyone who has chosen Lone Star Mansion to be a part of their wedding day, corporate event or social gathering. The creativity you've brought to our blank canvas has been nothing short of an inspiration. We've loved having the opportunity to watch you make memories that will last a lifetime, and even more so, loved being a part of it.
Our Staff
Our team comes together to bring each an every event to life. We couldn't be more thankful for the dedication and teamwork that our staff brings to the table.
Our Families
As many event professionals understand, being a part of the event industry comes with nights and weekends away from our family and friends. None of us could do what we do without the love and support of our family, and we are so thankful for that.
Our Industry
Our industry is full of creative inspiration and professional ambition. We are thankful for the partnerships and connections that the event industry provides.
Our Community
As an south Fort Worth wedding and event venue, we are passionate about local business and improving our community as a whole. We want to specifically thank all DFW business owners for helping our community grow, and Burleson residents for helping our businesses flourish.