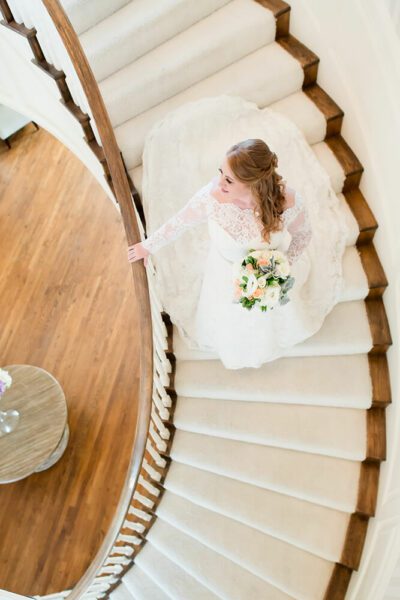 If you'd like to have a wedding at our Burleson mansion venue check out these tips for planning a classic mansion wedding.
Highlight the Mansion's Architecture
Our venue has beautiful features, such as columns, balconies, and elaborate staircases that can be highlighted with uplighting or floral decorations. Accenting these unique elements with garlands and lights can add uniqueness to your wedding decor and wow your guests.
Use History for Inspiration
Give a nod to your venue's history, and have a wedding theme from an era past. From a 1920s wedding with Gatsby vibes to a Downton Abbey style wedding. The Mansion was actually built in the 1800s in Mississippi. In the 1980s, it was falling in to disrepair, so it was disassembled and the salvageable pieces were brought to Texas and put together again in the same floorplan as the original house. There are still several main pieces that are original; including most of the hardwood floors, the columns, crown-molding, and some doors and windows.
Mansion Inspired Florals
Take in every detail of your mansion and the mansion's surroundings and draw inspiration for your wedding flowers and centerpieces. Use native wildflowers in your bouquet to mimic the fields surrounding the mansion. Some native plants are Lantana, Texas Sage, Bluebonnets, and Indian Paintbrush.