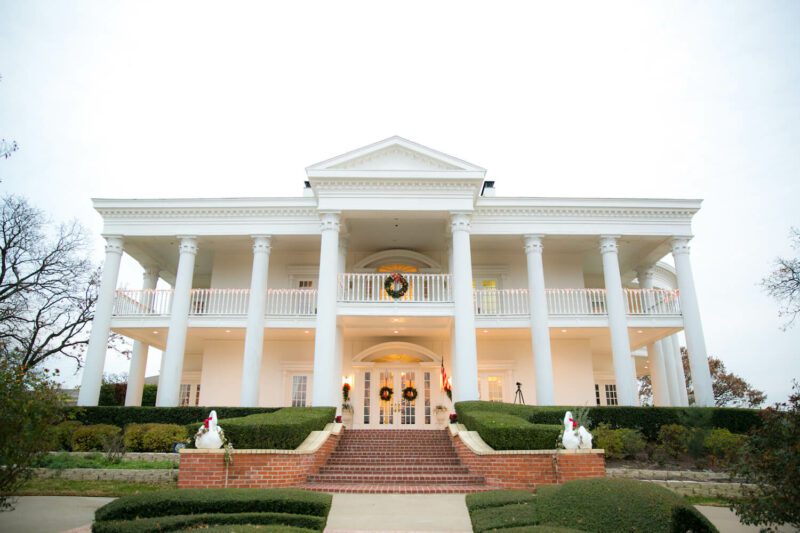 Our mansion is very popular with couples in search of a Fort Worth winter wedding venue. Though winter is not primary wedding season it is still considered the most romantic one. As we experience the magic that is the holiday season, the cold makes us all want to cozy up closer to our loved ones. If you're planning a winter wedding this season, check out our cozy wedding decor inspiration.
Warm Up with Wood Elements
Use natural elements of wood to warm up your decor such as wood slice chargers on your tablescapes or bundles of birchwood branches as tall centerpieces. Further warm up your tablescape with red elements such as red velvet napkins.
Use Cozy Colors
Rich reds and purples can warm up a space. Consider adding a moody mulberry, ripe plum, mauve, or eggplant to your color palette.
Cozy Lounge
Create a luxe lounging area with an onyx coffee table, faux-fur pillows, candle-studded garland and a lit-up Christmas tree, it's the perfect spot for a cozy cocktail hour.
Use Metallics
Copper, gold and rose gold not only warm up a room they also bring in just the right amount of sparkle.
Faux Fur & Chunky Knit
Just like in your home providing guests with chunky knit blankets for your ceremony or faux-furs draped on the backs of the chairs at your reception instantly makes your wedding feel more cozy.