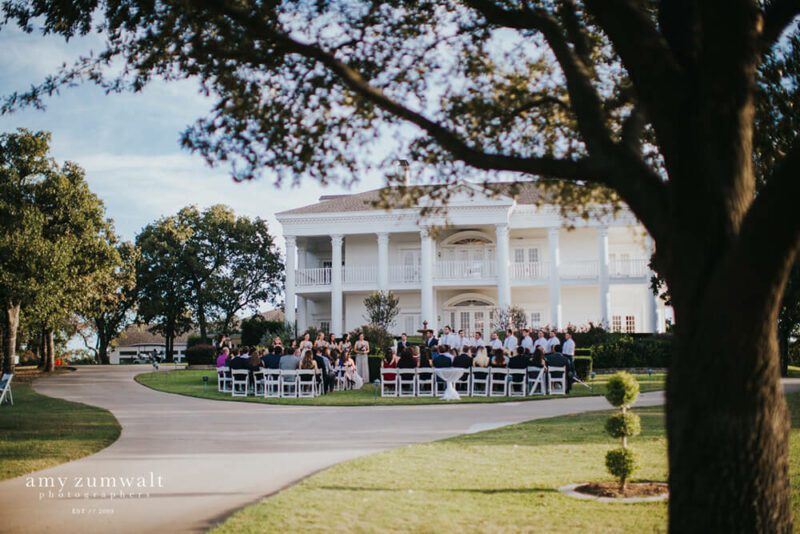 One of the great things about our Fort Worth mansion venue is that there are so many options for your ceremony on our property from the front yard in front of the mansion to the ballroom. With so many places to choose we thought you could use some tips on deciding which spot will be perfect for your ceremony.
The Mansion
The Mansion itself provides a beautiful backdrop for your ceremony that is truly unique. If you have a small gathering and always had dreams of an outdoor royal wedding the front lawn with a view of the front of the mansion might be the perfect spot. For larger crowds the backyard poolside is just as breathtaking of a view.
The Ballroom
The Ballroom has gorgeous vaulted ceilings with a wall of windows for a wedding ceremony out of the scene from the movies. And is perfect for both large and small gatherings.
The Property
With almost 20 acres, there is so many unique outdoor location on our property. Two of the most popular are the giant Oak Tree and the Iron Gazebo on the lake. These locations make some breathtaking photography and picturesque memories to last a lifetime.
The Carriage House
While the carriage house is typically used for the reception, we are happy to accommodate special requests. The carriage house has unique wood trim details, chandeliers accented by drapery on the ceiling, and perfect for both intimate and larger weddings.